I have to mention how much respect I have for Magnus Axelson and his incredible ability to create sheaths which are just seamless with his knives. His use of leather and various matching metal adornments in a pattern that just flows with the given knife is just incredible.......and then He stitches the ensemble together, metal and all and comes up with nothing short of art. I envy his ability.
Paul Long
Proffesional sheath maker
Texas USA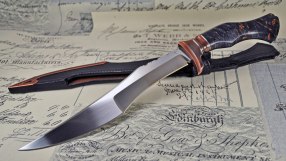 I first stumbled across Magnus Axelson's work while browsing Beautifulblades.com's selection of fine handmade knives.
His approach to knife making hit me like a thunderbolt!
I started following Magnus' work, especially on Bladeforums where he regularly posts his new creations. His unique approach and fresh, outside the box thinking when it comes to design, plus his immaculate fit and finish work puts him in the top tier of my most admired knife makers.
But it was only after dealing with Magnus that I realized that his skill and vision play second fiddle to his outstanding customer service. Magnus does everything to ensure you are happy with your knife, keeping you in the loop during the design process and throughout the build process. Magnus is a sincere and thoughtful individual who does a great job in translating his customer's input into a beautiful knife which will stand on its own, throughout the tests of time.
Magnus Axelson is unequivicably one of my most favourite knife makers, and I really don't think you can go wrong in investing in him and his unique approach to the Art of knife making.
Thank you, Magnus, for building the knife 'Stormy Weather' for me.
When it comes time to shed this mortal coil, future generations of my family will continue to appreciate your contribution to the world of knives!
Lorien Arnold
Canada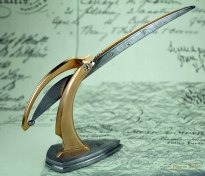 Within the last week, I received the "Trebuchet" from Magnus in Sweden.
It will be put into a "collection within a collection" for display purposes, with pieces by a few makers whose names have a rather international ring to them.
I've decided to put together several of the posts regarding this knife from Blade Forums, which when taken together, really speak about this piece as something very special:
"What I love about this piece is everything. I don't simply look at it, I visually caress it."
Jim Cooper suggested this thread be re-posted every month, the piece being so magnificent:
"Looking at it every day will be much better than checking out a thread once a month. Love those imaging skills of Magnus, but this package may need one more image............"
"It may not be a Warenski or Erickson, but it IS from the mind of design genius, IMHO.
I thought it was absolutely magnificent from the moment I saw it. Call it a trebuchet, a sundial, a scalpel - whatever you want - but it's glorious in shape and design, start to finish. Just superb work by a master. Thanks."
So let me finaly express my real appreciation for this piece and Magnus' abilities in creating it so artfully.
Thanks, Magnus!
Best,
Robert Betzner
USA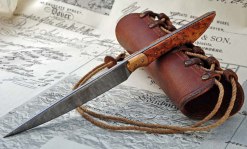 Today I received your knife !
I open the knife and sheath, then saw, watch and grip them.
As I expected, they are more wonderful than your beautiful photographs.
It fits to my hand very well, and the balance is just as I wanted.
The knife is of course beautiful, but also, I feel the sort of "familiarity" to the knife.
I believe that it is why I like your knife.
Your bronze filework is favored by black micarta.
As you would choose, the damascus steel is really beautiful and good pattern.
Especially, I do like the sheath...leather construction and finish, the chamfering and
small three dots in detail...all are great !
Both the thickness of the knife and the thickness of the sheath leather are also just as my favorite.
They look good, and feel good!
Koshiro Yagawa
Japan
Magnus,
I recently received my Ringed Claw with snakewood and was so awestruck by its beauty and incredible craftsmanship that I wanted to let you know. I have been a collector of custom handmade knives for over forty years and as such I have seen many many knives. The melding of artistic talent blended with the ability of a true craftsman seldom occur in an individual, however, as can be seen in my knife you are one of the rare few. I was truly impressed in your ability as a knife maker but I must say that your skill as a leather crafter cannot go unmentioned! the fit and finish of the sheath is the very best I have ever seen, bar none! So much so I have shared your creation with many many personal friends that are also custom knife-makers in hopes they will learn that a sheath is an integral part of the knife and should never be an afterthought. I look forward to future creations by one of the few craftsmen I think has demonstrated the abilities to be called a master in his craft!
Thank you very much Magnus.
Sincerely,
Andrew H Card CMH
USA