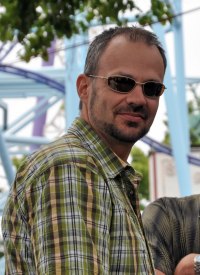 My name is Magnus Axelson and I am a maker of custom, one off knives.
I have been fascinated and interested in knives for as long as I can remember. Knifemaking for me is a great way to be creative and to make and shape things with my hands. It has been my passion since 2002. The making of knives started when I needed a highly functional and sturdy little knife for my needs in and around my longbow archery. And after also making one for my wife and one for my father I was hooked! I had found something that was missing in my life!
I am open to all new challenges and make anything from hard use utility knives to swords and collector's show pieces. What ever kind of knife it may be, they are all heat treated to a very high standard and they are all made to be used should the owner choose to do so.
Being mostly self taught in knifemaking lets me be very free in my creativity and usual limitations are never an issue. I enjoy making a wide variety of knives, both of my own design and working with customers to come up with an even more personal design.
All my knives are unique and I never make two knives that look exactly the same. But upon request, I do make knives based on earlier designs that may be altered to create a new more personal knife for the customer. My sheaths are always made specifically to fit each knife. The knife itself is used as a mold so no two sheaths are ever the same.
I am inspired by anything around me that catches my eye and that evokes emotions and ideas. Therefore I strive to have an open mind and a high level of awareness in my life in general.
I feel that I have just embraked on this journey and I truly look forward to the endless opportunities knifemaking has to offer in the future.
I was born in 1970 and have lived most of my life in Sweden. My family and I live in a small town called Sandviken, about 200km north of Stockholm. I have a wonderful wife and a daughter who is beyond words. They are my life's greatest joy and inspiration.
Yours sincerely
Magnus Axelson